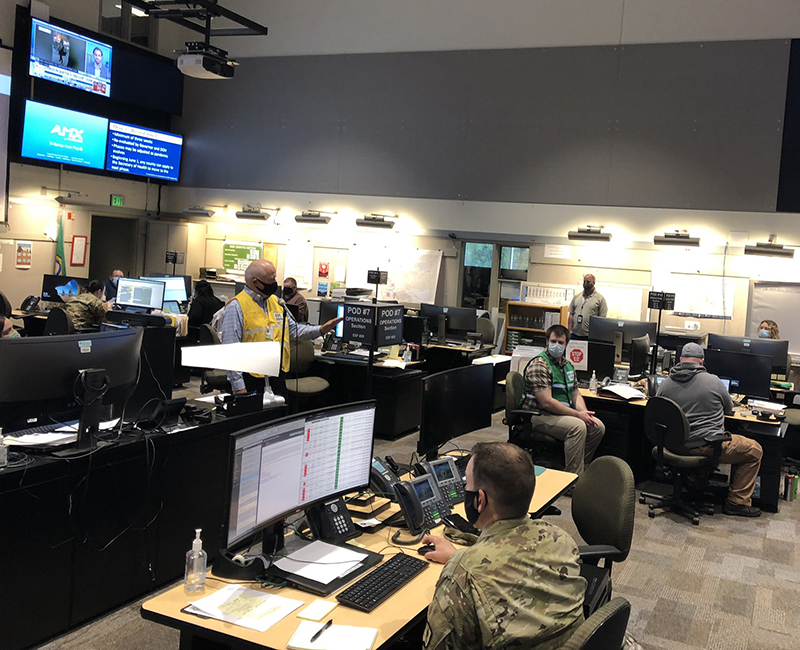 The state Emergency Operations Center in action during COVID-19.
About the Emergency Operations Center
The Washington Military Department, Emergency Management Division, manages the state's Emergency Operations Center located on Camp Murray near Tacoma, Wash. The Department, with support from the Legislature, was appropriated more than $9 million to construct a new facility to replace the shared property with the Washington State Patrol and commercial buildings that were rented in the Olympia area.
Ground breaking occurred in March 1997 on Camp Murray, near Tacoma. The two-story, 28,000 square-foot building accommodates a staff of 100 during day-to-day operations and 310 responders (staff and others) during a catastrophic emergency. Staff moved during July 1998.
The facility serves as the Washington State Emergency Management Division headquarters and the State Emergency Operations Center (EOC). The facility is dedicated in the memory of Joel P. Aggergaard, who served in the state's Emergency Management Division from 1975 until his untimely death in 1996.
When an emergency occurs, numerous agencies at the local, state and federal level must carry out many different functions swiftly and effectively to protect life, property, the environment and the economy in a concerted effort to restore normalcy. The number, nature and urgency of problems during an emergency differ greatly from those during normal governmental operations.
Gathering information during an emergency, making decisions, and taking necessary actions to implement those decisions requires close coordination between key officials who may not normally work together. Decisions and response actions must be coordinated, integrated and applied thoughtfully within some structure. A proven way to maximize coordination and application of resources in an emergency is by centralizing response actions in an Emergency Operations Center (EOC).
Role and Purpose
The state Emergency Operation Center (EOC) serves as the focal point for state responses to emergencies and disasters. These emergencies or disasters are the result of natural, technological or human-caused hazards.
The division notifies and alerts state agencies and local governments of impending emergencies and disasters. In the EOC, staff coordinates with state, federal and local government agencies, non-government organizations, private businesses and industry to effectively respond to a natural or technological emergency.
The numerous primary and back-up communications systems allow the state to warn local and state agencies, and the public, of an emergency and to communicate among all emergency response agencies during that event. During an emergency, representatives from other state agencies with emergency roles come to the EOC to help coordinate the state response. Federal government agencies, along with state and local volunteer organizations, also may provide representatives.
During an emergency or disaster, the EOC is designated as the central location for information gathering, disaster analysis and response coordination. Information gathered is used by executives to make decisions concerning emergency actions and to identify and prioritize the use of state resources needed to respond to the emergency. The EOC may issue emergency warnings or disseminate critical information and instructions to government personnel and the public who may need to take emergency protective actions.
Differences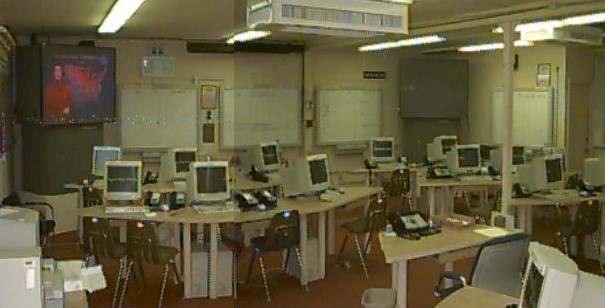 Compare the old Operations Room (1,300 square feet) above, to the view of the new Operations Room (3,600 square feet) below, during a training activity shortly after the new State EOC opened.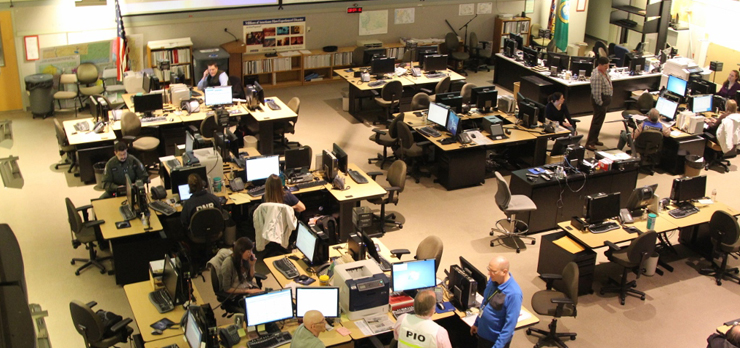 Design Features
Designed to survive and be operational during and following a major earthquake, the steel-braced and framed building has a base isolation foundation that acts as shock absorbers. With its own emergency power and auxiliary communications systems, the facility is a showcase for preparedness and hazard mitigation. During long-term emergencies, Camp Murray will provide support for lodging, feeding, emergency water supply and sanitation services for EOC responders.