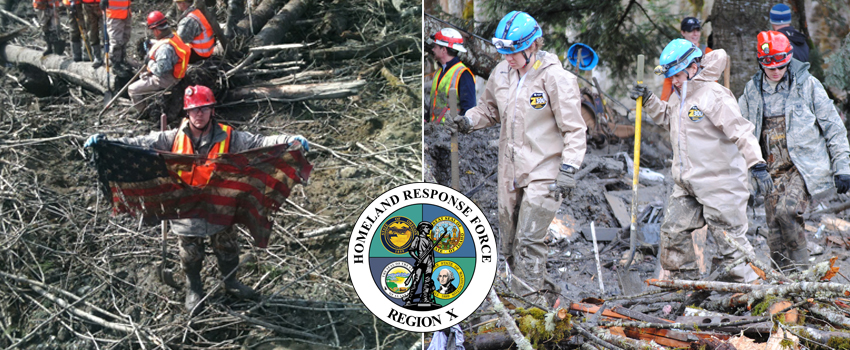 Homeland Response Force
What is the Homeland Response Force?
(video created in 2012)
The Homeland Response Force (HRF) is a regionally aligned Chemical, Biological, Radiological, Nuclear, high-yield Explosive (CBRNE) asset established to support and enhance local, state and federal emergency managers in response to natural, man-made, or terrorist-initiated CBRNE disasters and additional hazards (HAZMAT) that result in a National Incident Management System (NIMS) construct.
When directed by proper authority and upon consent of the Governor(s), the HRF alerts and assembles within six hours. When deployed it may conduct command and control; security; search and extraction; decontamination; and medical triage as needed in order to save lives and mitigate human suffering. Subsequently, HRF personnel may be ordered to transition operations to civil authorities.
In order to serve in this capacity, HRF personnel are thoroughly trained in the Incident Command System and Defense Support to Civil Authorities (DSCA), which makes the HRF a capable resource when integrating the National Guard and civilian emergency management.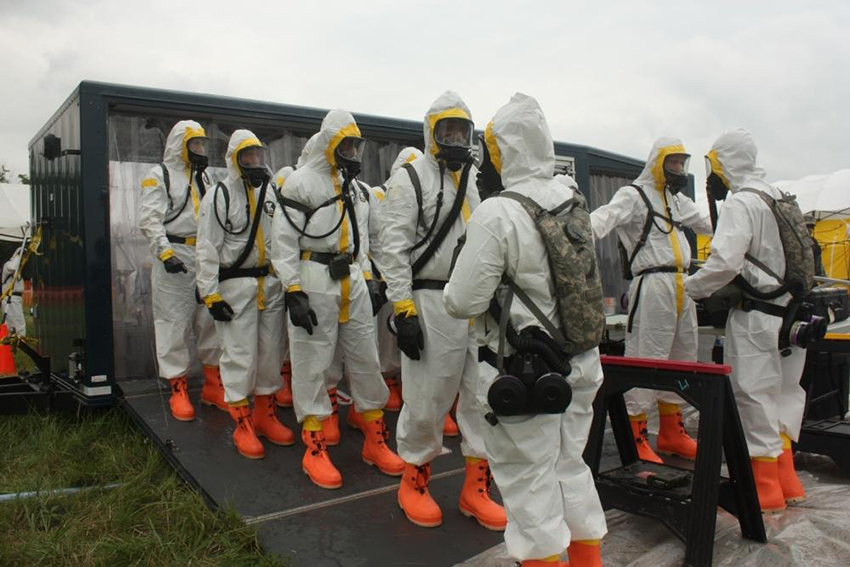 Highlights
Operates under the control of the governor
Validated by the adjutant general of each state
Each HRF is comprised of around 570 National Guard personnel.
Deploys and conducts command and control
Works alongside first responders in: casualty assistance, search and extraction, decontamination, and medical triage and stabilization
Can operate both in a regional and national level
HAZMAT Awareness or operations level certified
Total of 10 HRF's – one per FEMA Region
6-12 hour response posture
Capable of managing a catastrophic event involving additional consequence management units
Bridges a gap between initial National Guard response and Title-10 capabilities
---
Why is the HRF important?
21st-century tragedies – such as 9/11, Hurricane Katrina, the Deepwater Horizon oil spill, and the Oso mudslide – have highlighted the importance of being proactive in preparation and efficient and effective in response. National Guard mobilization methods are improving as they evolve and expand relating to Homeland Defense. The entire enterprise of response is critical to the nation's readiness as we enter the 21st century's second decade and prepare for unknown but certainly challenging horizons.
Where are we located?
The Homeland Response Force FEMA Region X was one of the first HRFs to be created in 2010. Its units are located across the state of Washington, Oregon, Idaho and Alaska. Washington elements are stationed in Seattle, Tacoma, Anacortes, Port Orchard, Vancouver, Yakima, Grandview and Spokane. Response times are varied, with typical deployment between 6-12 hours of notification.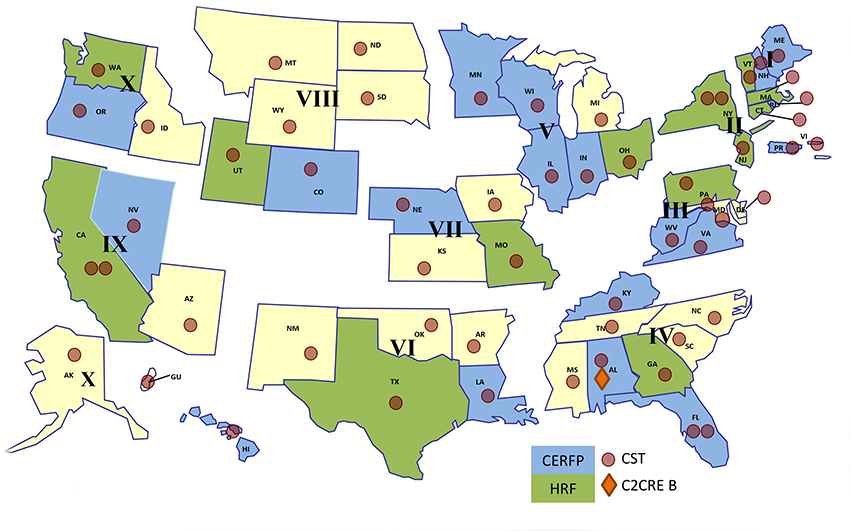 Who are the HRF aligned units?
The Homeland Response Force is comprised of a number of aligned units, including:
10th Civil Support Team (10th CST)
CBRNE Enhanced Response Force Package (CERFP)
Joint Incident Site Communications Capability (JISCC)
CBRNE Assistance Support Element (CASE)
HRF Command and Control element (C2)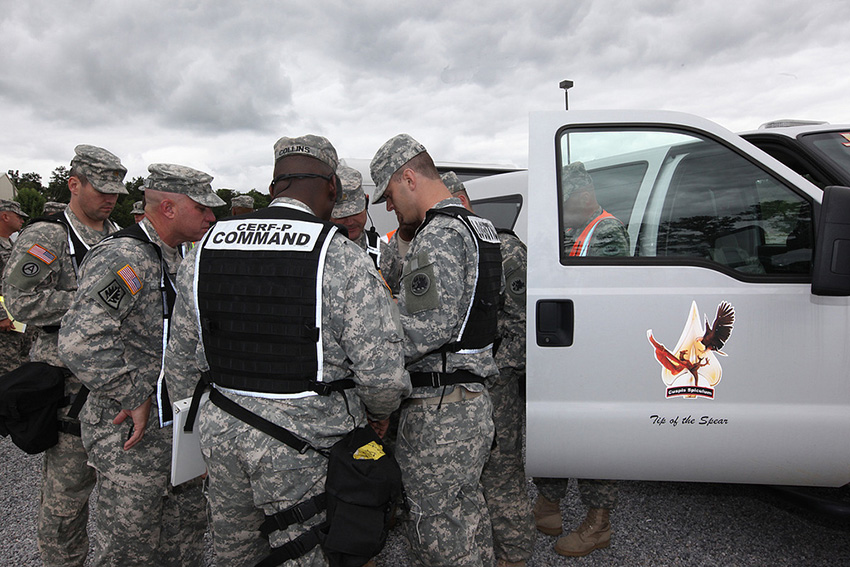 What capabilities do we have?
10th CST:
The 10th Civil Support Team's mission is to support civil authorities at a domestic CBRNE incident site with identification and assessment of hazards; to provide advice to civil authorities; to assist with the arrival of follow-on military forces during emergencies and incidents of weapons of mass destruction terrorism, the intentional and unintentional release of CBRNE materials and natural or man-made disasters in the United States that result in, or could result in, catastrophic loss of life or property.
CERFP
The CBRNE Enhanced Response Force Package is designed to deploy within 6 hours of notification using a phased deployment. They have the ability to integrate with first responder teams, augment, or operate independently. CERFP capabilities include Search and Extraction, Mass Casualty DECON, Medical Triage and Treatment, and Fatality Search and Recovery.
JISCC
The Joint Incident Site Communications Capability is a resource that provides communications support to augment first responders. JISCC capabilities includes frequency cross-banding of commercial and tactical radio systems, reach-back support, on-scene command-post integration, and additional operator-to-operator communications via ultra-high frequency radios, repeaters and mast-mounted antennas.
CASE
The CBRNE Assistance Support Element is a security force of approximately 200 soldiers. This element provides riot and crowd control management and can augment law enforcement in a state active duty or Title 32 duty status. This element is available to deploy within 12 hours of notification.
How soon can you expect us?
The Homeland Response Force is designed to deploy within six hours on a phased deployment. Initially liaisons will deploy to the incident site to assess and advise the incident commander on available resources and capabilities. They are followed by our command and control element (C2), which establishes the footprint for the rest of the unit – allowing for a controlled and phased integration. The flow of resources is dependent on the location and complexity of the incident.
---
In the news
The Spokesman Review - Homeland Response Force Drill
Northwest Military.com - Washington disaster team stands ready
King 5 - Washington National Guard to establish first Homeland Response Force
NBC KNDO - National Guard Soldiers Train at HAMMER for Chemical Disaster Response
GoAnacortes - National Guard chemical unit shares its mission
Northwest Military.com - Washington National Guard trains for newest biological threat at Fircrest school
DVIDS – HRF Region X trains on Environmental Protection Agency's ASPECT Program
Outreach Materials
Homeland Response Force Overview
Domestic Response Capabilities Book
---
Contact Us