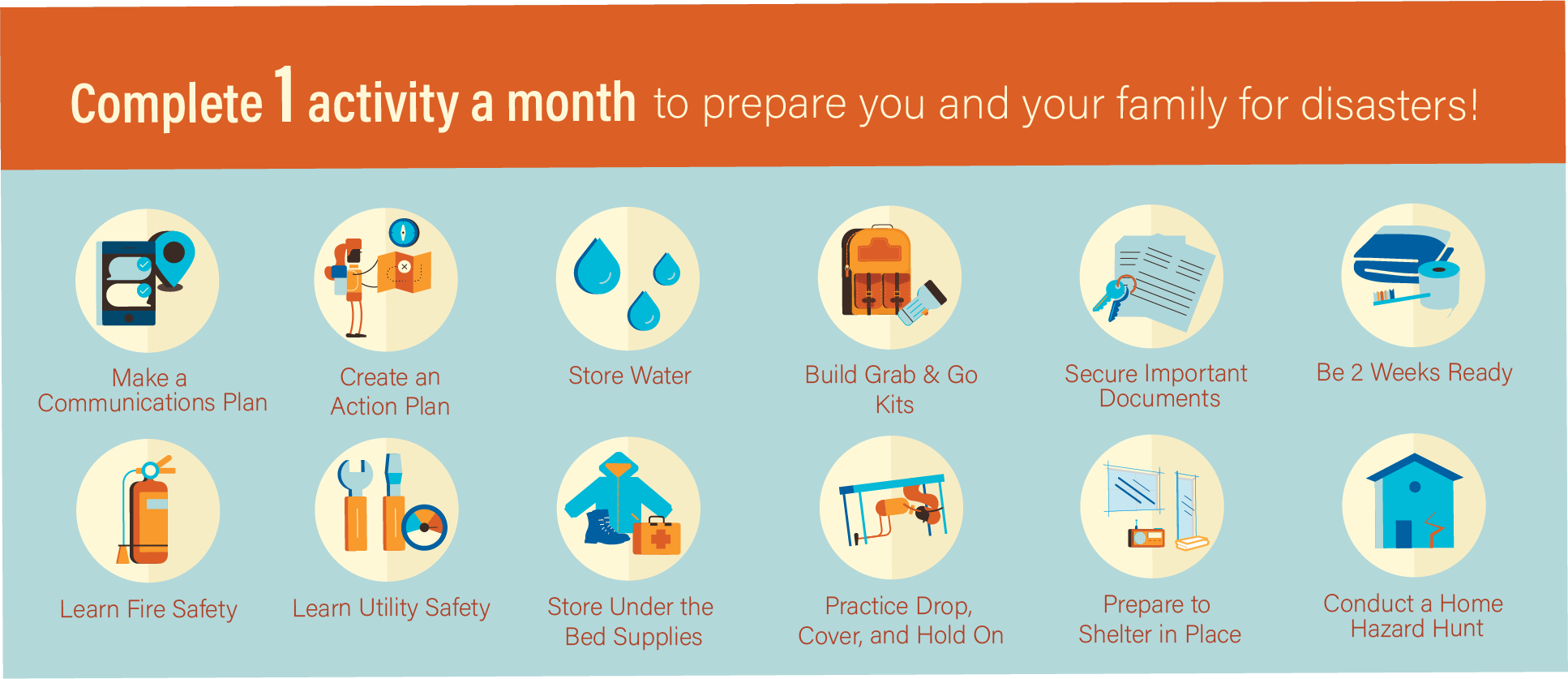 Individuals, Families & Pets
You may need to survive on your own after a disaster. This means having your own food, water and other supplies in sufficient quantity to last for as long as two weeks. Local officials and relief workers will be on the scene after a disaster, but they cannot reach everyone immediately. You could get help in hours or it might take days. We're encouraging you to be two weeks ready for anything.
Basic services such as electricity, gas, water, sewage treatment, internet or even your cell phones may be cut off for many days. You may even have to evacuate at a moment's notice and take essentials with you. You probably will not have the opportunity to shop or search for the supplies you need.
Prepare In a Year
When a disaster happens, will you know how to reconnect with your family? Planning ahead can reduce your anxiety following a disaster. As part of your family emergency preparedness plan, focus on communication. Every member of the family needs to be involved so that when disaster strikes, everyone will know what to do. How well you manage the aftermath of a disaster depends a great deal on your level of preparedness when disaster strikes. Use this guide to take a step every month for the next 12 months to Prepare in a Year. Then, practice your plans. Maybe have a picnic with your emergency food stores before they expire, then update your supplies.
To ensure your family is better prepared for the next disaster complete the easy-to-do activities in our Prepare in a Year Booklet:
Don't forget to use our Refrigerator Reminder Card (PDF)
Webinar: Watch the free Prepare in a Year webinar for tips, tricks, and preparedness hacks to help you on your preparedness journey.
Activity Toolkits
Want to dive deeper into the activities in the Prepare in a Year guide? Here are free, downloadable toolkits with resources for each of the 12 activities. Some links coming soon throughout 2021.
Communication Plan
PowerPoint
Playbook
Video
Create an Action Plan
PowerPoint
Playbook
Video

Store Water
PowerPoint
Playbook
Video
Video 2
Grab & Go Kits
PowerPoint
Playbook
Web Link
Video

Secure Important Documents
Video
PowerPoint
Playbook
Be 2 Weeks Ready
PowerPoint
Playbook
Video
Learn Fire Safety
Video
PowerPoint
Playbook
Video
Learn Utility Safety
PowerPoint
Playbook
Video
Store Under the Bed Supplies
PowerPoint
Playbook
Video
Drop, Cover & Hold On
PowerPoint
Playbook
Video

Shelter in Place
PowerPoint
Playbook

Home Hazard Hunt
PowerPoint
Playbook
Video
Prepare Your Pets

If you are like millions of animal owners nationwide, your pet is an important member of your household. Unfortunately, animals are also affected by disaster.
Some of the things you can do to prepare for the unexpected, such as assembling an animal emergency supply kit and developing a pet care buddy system, are the same for any emergency. Whether you decide to stay put in an emergency or evacuate to a safer location, you will need to make plans for your pets. Keep in mind that what's best for you is typically what's best for your animals.
Our partners at the Federal Emergency Management Agency have developed several resources to help you care for your animals and prepare for a disaster.

Additional resources:
Assemble Disaster Supplies Kits
A disaster supplies kit is a collection of basic items that members of a household may need in the event of a disaster. At a minimum, it's suggested your kit include water, food, a radio, flashlight and a first aid kit. For a more complete list, visit our suggestions to prepare your Home Kit. It's also recommended that individuals assemble a Vehicle Kit to keep in your car.
For more information about building kits, visit mil.wa.gov/kits
Disaster Preparedness Videos
Take a few minutes to watch these "how to" and "personal safety" preparedness and flood videos.
Publications
To download the complete Emergency Preparedness Guide and view other publications and links. For more information about disaster preparedness, visit mil.wa.gov/preparedness.
---
Connect With Us
Email: public.education@mil.wa.gov