Alert & Warning Center helps coordinate air rescue
---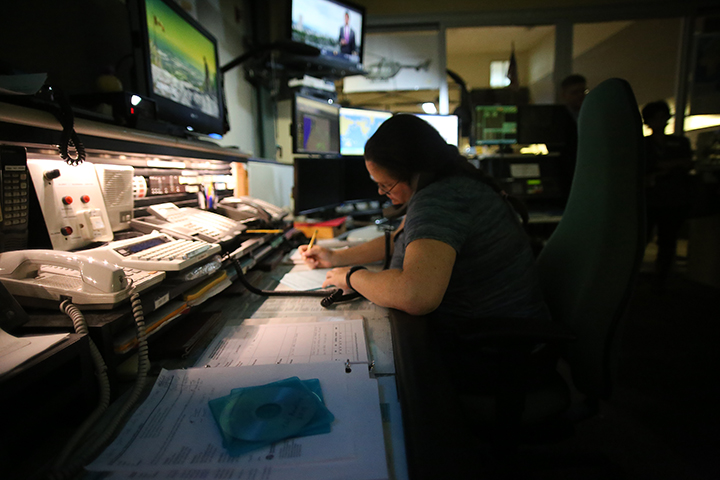 State Emergency Operations Officer Jennifer Davey Schlierman
Alert & Warning Center helps coordinate air rescue
The state's Alert & Warning Center helped coordinate the helicopter rescue of an 89-year-old woman from a beach in Clallam County on July 12, while at the same time helping legislators and their staff understand the nuances of their job during a scheduled tour of the state Emergency Operations Center.

Between fielding questions from lawmakers and their staff, State Emergency Operations Officer Jennifer Davey Schlierman was trying to locate a helicopter to retrieve a woman. Unable to find local helicopters, she turned to Naval Air Station Whidbey Island for assistance.

"We got a call from Clallam County Sheriff and they said they had this woman and couldn't get search and rescue ground teams to her because it was 6 to 8 hours from where she was at," Schlierman explained during the tour in a video posted on the Washington Emergency Management Division's Facebook page. "They requested a helicopter with a hoist capability."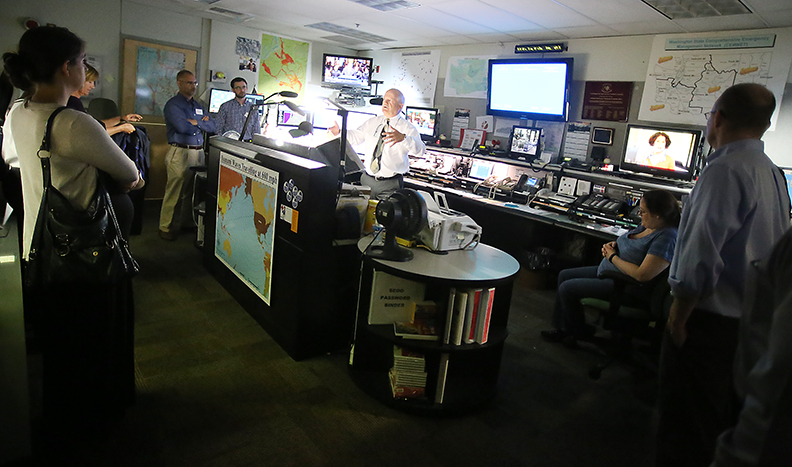 Response Section Manager Chris Utzinger explains the duties of the Alert & Warning Center
to visiting legislators and their staff on July 12.

A Facebook post from the air station, notes that the woman was "suffering from exhaustion and hip leg pain that prevented her from being able to stand or walk." She was "accompanied by her grandson who made the initial call for help," according to the post.

"After quickly locating the elderly woman and her grandson they hoisted them aboard the aircraft and flew them to Olympic Medical Center in Port Angeles," the Air Station reported.

Helicopter resources typically come from King and Snohomish counties, but the U.S. Coast Guard and Naval Air Stations are also used when local resources are unable to respond. Last year, a Washington National Guard helicopter was used when it was at the right place at the right time.

The Alert & Warning Center also coordinates ground rescues and mountain rescues.

In June, the Alert & Warning Center's monthly report notes that 84 search and rescue missions were coordinated. Last year, more than 800 search and rescue missions of different varieties were coordinated by the Alert & Warning Center. A monthly report can be found here.

The Alert & Warning Center is staffed 24 hours a day, seven days a week, even during holidays and is located on Camp Murray in the state Emergency Operations Center.
---