New deputy director brings enthusiasm to Washington EMD
---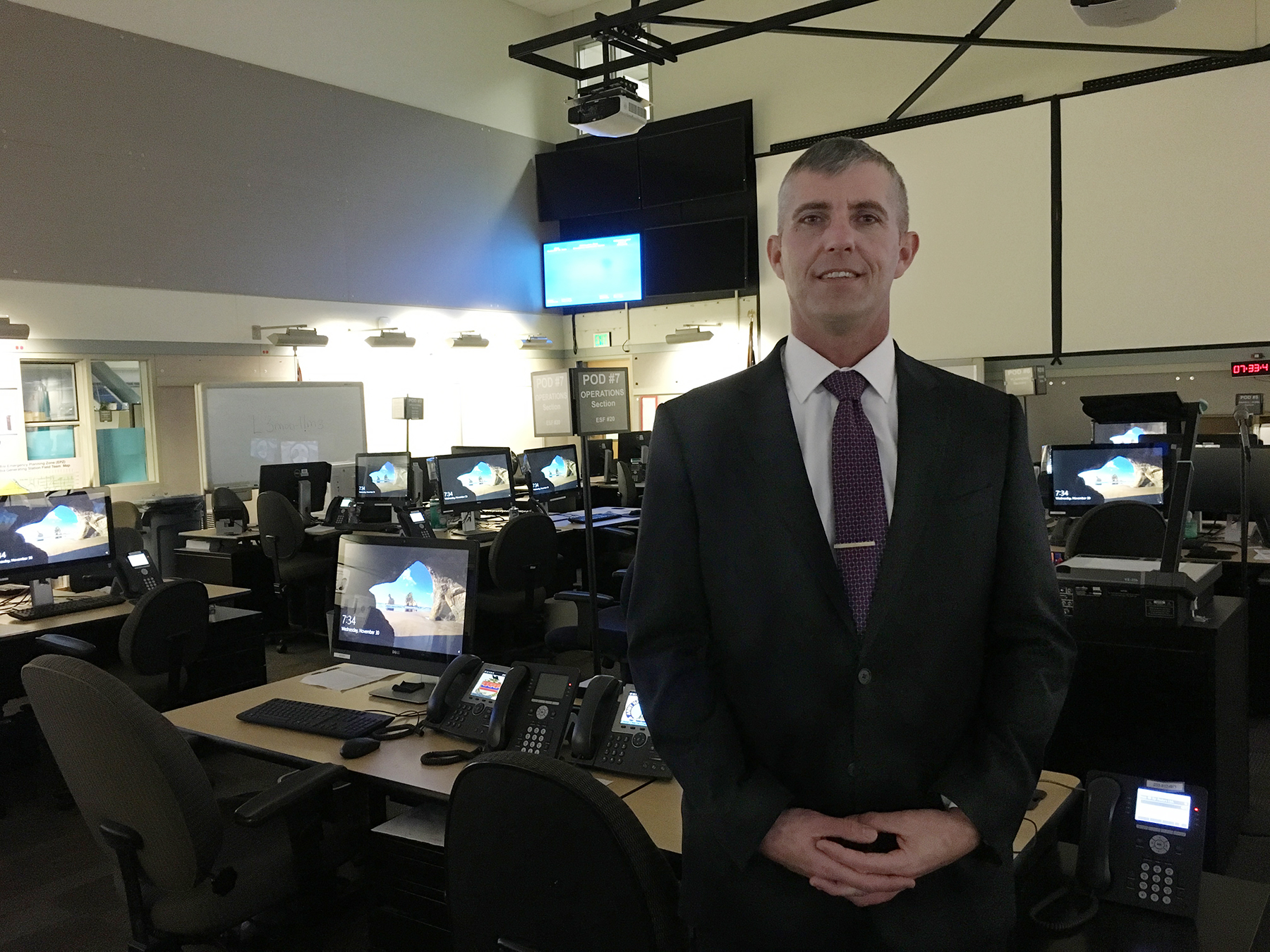 New Washington Emergency Management Deputy Director Jason Marquiss stands in the center of the
state Emergency Operations Center at Camp Murray.
New deputy director brings enthusiasm to Washington EMD
Jason Marquiss says his high energy personality comes from a career where he's had good jobs, great supervisors and a team that feeds off his enthusiasm.
Now, Marquiss is bringing his talents to the Washington Emergency Management Division as the new assistant director, serving under Director Robert Ezelle.
"I've had some great bosses and they were very motivated, very enthusiastic," Marquiss says. "You got motivated just by being around them and they really cared about what they were doing. In previous positions, I've always thought that I'm there to make my team successful, my team isn't there to make me successful. When you buy into that and truly believe that to be the case, it's very easy to be enthusiastic because that's what motivated you to do your job well."
Marquiss (pronounced Mar-kwiss) comes to the Washington Emergency Management Division as a retired U.S. Army Military Police Officer, having served nearly 24 years on active duty. He retired as a lieutenant colonel, where he served as the 759th Military Police Battalion Commander, the director of Emergency Services and Chief of Police for Fort Carson, the sixth largest U.S. Army military installation, located in Colorado Springs, Colorado.
"I bring to the table a strong sense of team," Marquiss said. "As an individual, it's never going to be about me or my personal feelings. It's going to be about what's in the best interest of this organization and what's in the best collective efforts for the larger group."
Marquiss says he enlisted in the Army in January 1993. He explains his father was in the Air Force and then became a career sheriff's deputy.
"He did everything from patrol to minor crimes like theft to major crimes," Marquiss said. "I think my sense of public service came from my father. Never in my wildest thoughts did I think I'd go into the military but it changed my life. I was only going to do five years, but the assignments I had led me on a path and opened up some doors for me and motivated me to becoming an officer. Almost 24 years later, I have all these great experiences behind me."
At Fort Carson, he was a battalion commander, where he led an 800-plus soldier organization comprised of seven subordinate units to include tactical military police, law enforcement detachments and a military working dog detachment. At the same time, he was also the Director of Emergency Services, leading all law enforcement, fire and emergency services, security and access control and E911/Emergency Communications Center operations. For about a year, he also served as the Chief of Police, where he oversaw both civilian and military police.
He says his job working with both military and civilians has definitely prepared him for his role at the Washington Military Department, which also has military and civilian components.
"This is my first pure civilian position and I cannot think of a better organization to come into with the skillset that I'm leaving the Army with than with the state EMD," Marquiss said. "When I looked for my next profession, and I learned more about the EMD, when I understood the mission, I turned to my wife and said, 'This is where I want to work.'"
As the assistant director of the Washington Emergency Management Division, he'll help lead the agency's unit managers and will serve as a disaster manager during the state's emergencies.
Marquiss said he has experience working wildfire response in Colorado in recent years, something he thinks will prepare him for potential wildfire dangers in Washington state. He says he looks forward to understanding other threats the state faces in the future.
Marquiss lives in Ashford with his wife, an avid climber, who has summited Denali in Alaska. The closeness to Mount Rainier has been a treat for both of them as they explore the region.
"We love to get outdoors as much as we can," he said. "In her words, there's never bad weather, just inappropriate clothing. You dress for the part and I try to take that with everything that I do."
He said he also loves to golf and especially enjoys building his own golf clubs.
Marquiss is a graduate of Park University and holds a Bachelor of Science in Criminal Justice Administration and from Webster University, where he earned a Master of Arts in Business and Organizational Security Management.
"Not only am I looking forward to being in leadership here at EMD, I'm here to build relationships across the state, including our local partners," he said.
---