Guardsmen begin to claim free hunting license
---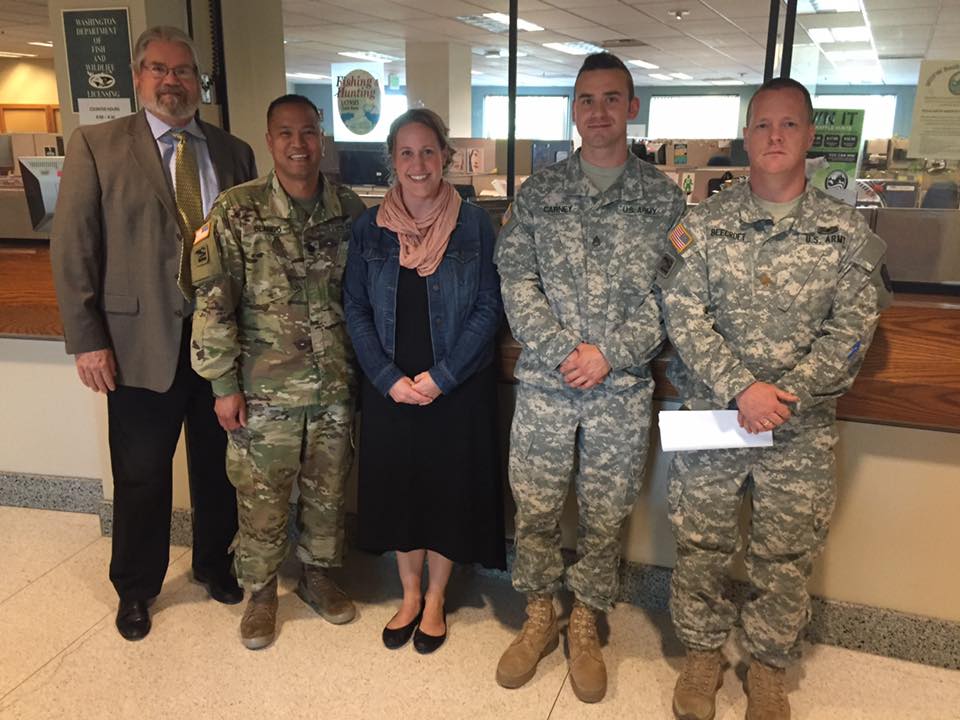 NGAW board member LTC Chris Blanco watches as MAJ Steve Beecroft, and SSG Shane Carney of the Washington Army National Guard are the first in line at the state capitol to take advantage of the free hunting/fishing licenses now available to members of the Washington National Guard. Also present are Peter Bernie and Kristin Nielsen from the licensing division of the Washington Department of Fish & Wildlife.
Earlier this year, Gov. Jay Inslee signed House Bill 1351, giving several types of recreational hunting licenses at no cost to members of the Washington National Guard, who are residents, as a benefit for being part of the Guard.
The passing of House Bill 1351 gave nearly 8,200 soldiers and airmen, most of whom do the job part-time, an additional benefit to being a member of the Washington National Guard.
But the question has been, how do Guardsmen go about receiving this benefit?
"It's fairly simple on how a citizen-airmen, soldier or Washington State Guard member can apply for a free Washington State Hunting License," said LTC Chris Blanco, Deputy Human Resources Officer.
Airmen, soldiers, or Guard members who are interested should first review the application process on the state Dept. of Fish and Wildlife (WDFW) website http://wdfw.wa.gov/licensing/national_guard/
Guard members that are interested in the free hunting licenses should first review the application process on the WDFW website. They can apply for their free license by sending in a few required documents to the WDFW by mail, fax or in-person at the Olympia office.
Requirements for the free hunting license:
Being a Washington state resident;
Being a member of the Washington National Guard or Washington State Guard;
Verification of service memo (email ng.wa.waarng.list.wdfwverification@mail.mil to receive a copy) the individual will receive an email with their signed memo within about a week; and
Hunter's Safety Education course (if applicable).
The WDFW will review their application and within 7-10 days they should receive by mail, their license and tags. Qualified applicants will receive a free annual licensing package that includes a big game license and a small game license with a migratory bird permit.
"We have provided more than 60 service memos to airmen, soldiers, and state Guardsmen who are planning to use this benefit," Blanco said. "This is a great benefit that National Guard Association of Washington (NGAW) worked hard for and hope more take advantage."
---